5,000 Newborns Marks new Milestone at RBH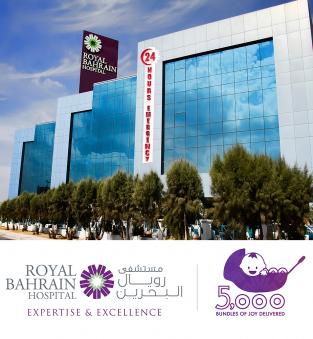 Royal Bahrain Hospital (RBH) has recently celebrated a new achievement when a bundle of joy brought a big number to the Maternity Unit with the birth of the 5000th baby!
RBH's Obstetrics & Gynecology department is equipped with state of the art facilities and is recognized by its highly specialized medical team who has a wide experience in various specialties including high-risk pregnancy and infertility.

With the full Women's Health checkup, RBH offers complete care for women in any stage of their life through pre-marital check-ups to menopause diagnosis and management. Other services include day care and laparoscopic surgeries. The Obstetrics & Gynecology Department offers new and expecting mothers various services and packages that include Gynecology procedures and surgeries, antenatal care, perinatology, pregnancy, labor and postpartum care, in addition to comprehensive new born procedures and tests.
Dr. Sheriff Sahadulla, Chief Executive Officer – KIMS Healthcare Group said: "We are delighted to have reached 5,000 births at Royal Bahrain Hospital. I would like to thank the medical team for their dedication and the new mothers and their families for giving us the opportunity to be a part of this joyous time in their lives."

RBH delivers quality medical care with a professional team of doctors, nurses, paramedics and administrators, combined with high end facilities and equipment. It provides affordable, safe and competent care to its patients, keeping with the highest international standards. Having said that, RBH is accredited by the Australian Council on Healthcare Standards International (ACHSI) and is the first Hospital in Bahrain to be awarded Diamond by the National Health Regulatory Authority.