Bahraini Doctor Awarded Best Endocrinology Physician Award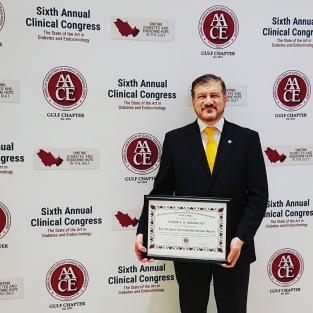 Royal Bahrain Hospital's Endocrinology & Diabetes Consultant, Dr. Wiam Hussein recently received the "Ibn Sina Distinguished Service Award" for his achievement in the field of Diabetes, Endocrinology and Metabolism in the GCC region.
Doctors from the GCC and MENA region attended the annual ceremony, which hosted high caliber physicians in the Diabetes & Endocrinology field.
The event was organized by the American Association of Clinical Endocrinologists, Gulf Chapter, the largest association in the Middle East & North Africa.
Dr. Wiam Hussein is an American Board certified in Diabetes and Endocrinology from the renowned Cleveland Clinic Foundation in Ohio, USA. Dr. Wiam is a Senior Endocrinologist in the Kingdom and was the former Medical Director of the Joslin Diabetes Center. He has received multiple awards for his research and medical work in the field including National Awards in the USA.
To book your appointment with Dr. Wiam, call 17246800, WhatsApp 32181810 or visit www.royalbahrainhospital.com. You can also download the Royal Bahrain Hospital Mobile App available on iOS and Android.