KIMS Bahrain Healthcare Observes Upcoming Labour Day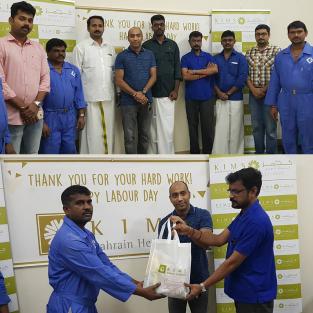 As part of its Corporate Social Responsibility Initiative and on the occasion of the upcoming Labor Day, KIMS Bahrain Healthcare distributed food products to the workers of Al Ghanah Company.
Representatives from both the companies, supported by volunteers from Bahrain Tamils were present at the venue to distribute the same.
Mr. Paritosh P. Group Marketing Head - GCC, KIMS Healthcare Group thanked Mr. Balagopal Chinnaiyan, General Manager (Transport& Mechanical), Al Ghanah Contracting company Bahrain for providing the opportunity to take part and organise the event.