KIMS HEALTHCARE GROUP ANNOUNCES PROMOTIONS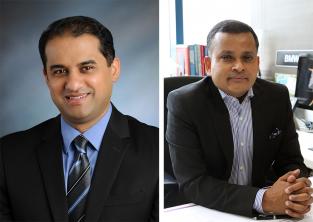 KIMS Healthcare Group, one of the leading healthcare providers in India and GCC region, has announced that its Board of Directors has appointed Dr. Sheriff Sahadulla as the Chief Executive Officer & Chief Medical Officer of KIMS GCC and Mr. Jacob Thomas as Executive Director – Operations & Projects of KIMS GCC.
Dr. Sheriff Sahadulla is a graduate of Tufts University School of Medicine in Boston and did his Internal Medicine specialization at the University of Michigan. He worked as a doctor and in healthcare management in Boston prior to joining the KIMS Group as the Executive Director and Chief Medical Officer in 2015.
Mr. Jacob has more than 20 years of healthcare management experience after graduating from Hospital Management. Prior to joining KIMS on a full time role of Director of Operations in 2007 he has worked with the Apollo Hospitals Group in India and about 5 years running a healthcare consulting firm in Bangalore.
Speaking on the occasion, Dr. Sheriff Sahadulla said: "I am honored to be given this position and congratulate Mr. Jacob Thomas on his promotion. I firmly believe that with our quality focused and patient centric approach we will continue to elevate healthcare delivery in the private sector in the GCC. I look forward to working with our executive team and our clinical providers in serving our patients and driving growth for our company."

Mr. Jacob Thomas further added, "I congratulate Dr. Sheriff and look forward to taking our organization forward through many planned expansions across GCC in the next couple of years. On the operations front, our focus will be on patient safety, patient experience and innovation through application of emerging technologies."