RBH to Host Critical Care Nutrition Course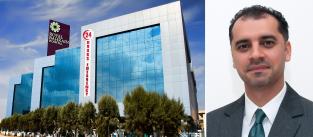 Critical Care is a vital healthcare aspect due to its continuous evolution, which calls for consistent research and study. Addressing this very aspect, Royal Bahrain Hospital (RBH) is hosting the 2ndAdvanced Critical Care Nutrition Course (ACCN) in Bahrain in collaboration with Critical Care Educational Support Professionals (CCESP).
"RBH is pleased to host ACCN for the second time together with CCESP. Nutrition during critical care is significant to a patient's recovery process. Through this course we are aiming for professionals to upgrade their knowledge and familiarise themselves with new tools," said Dr. Sheriff Sahadulla, Chief Executive Officer, Royal Bahrain Hospital.
"Critically ill patients can quickly develop malnutrition, or pre-existing malnutrition they present with is aggravated due to the inflammatory response, metabolic stress and bed rest which cause catabolism." This response is combined with complications of increased morbidity due to infection, multi-organ dysfunction (MOD) and prolonged hospitalization said Dr. Tariq AlMusawi, a consultant intensivist and infectious disease. The persistence of this problem is partly explained by the absence of immediately visible consequences of acute malnutrition.
He added, "15 - 70% of patients admitted in hospitals are malnourished to some degree. Malnutrition remains undiagnosed in up to 70% of hospitalized patients as reported in some North American hospitals, and among these, 70 - 80% patients may not receive optimal nutritional support during their hospital"
Importance of nutrition in the ICU
Approximately 60% of intensive care unit (ICU) patients suffer from gut dysfunction due to impairment in gastrointestinal (GI) motility, digestion, or absorption. GI dysfunction along with inadequate intake of calories leads critically ill patients to develop an energy deficit and lose lean body mass.
Malnourished ICU patients experience immune dysfunction, weakened respiratory muscles, lowered ventilation capacity and reduced GI tolerance. Hence, they are at risk of developing complications like ventilator dependence, gastro-oesophageal reflux, pulmonary aspiration, and infections that can lead to sepsis, multi-organ failure, and even death.
Course Objectives
This two-day course, chaired by Dr AlMusawi is composed of morning lectures and afternoon skill stations tackling all matters related to nutrition in ICU patients. It trains how to assess the degree of malnutrition, calculate needed caloric requirement, different types of enteral and parenteral formulas, their indications and complications, special nutrition matters to surgical patients, as well as special populations like paediatrics and neonates. During the afternoon workshop, live clinical cases are being explained and discussed and participants interact freely with the instructors.
Who can participate?
All health personnel involved with nutrition of ICU patients, intensivists, dietitians, nurses, clinical pharmacists, anaesthesiologists and surgeons. In addition, this Advanced Critical Care Nutrition course provides 12 credit hours from the National Health Regulatory Authority.
This is part of Royal Bahrain Hospital's commitment to continuous medical education, and improving quality of care to patients in general, and to its patients in particular by providing a model of an evolving modern ICU in its vicinity.
For more information, contact Royal Bahrain Hospital on 17246800.