RBH LAUNCHES COVID-19 FOLLOW-UP CLINIC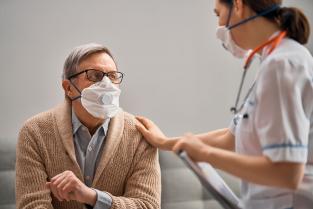 As coronavirus infection cases continue to soar, it is clear that COVID poses a risk for people across all age groups. For many, the initial infection may have passed but symptoms, such as cough, itching throat and fatigue may continue to persist after the illness. Recovered patients are returning to hospitals, complaining of heart issues, mental distress and much more.
Keeping this in mind, Royal Bahrain Hospital (RBH) has launched a specialized multi-disciplinary clinic for patients requiring continued care after recovering from COVID-19. The clinic aims to treating patients who are experiencing persistent symptoms such as – fatigue, anxiety, cough, congestion or shortness of breath, loss of taste or smell, headache, body aches, chest or abdominal pain and confusion.
RBH has put up a team of medical experts to screen, assess, treat, and provide referrals and resources for any individual who has previously tested positive for COVID-19, whether hospitalized or not, and who continues to experience symptoms related to the virus. These patients will be followed over time in order to address new needs as they emerge.
The COVID-19 Follow-up Clinic comprises specialists from Pulmonology, Internal Medicine, Neurology, Psychiatry, Cardiology, Nephrology and Nutrition. Dr. Maria Teresa Catacutan, Specialist, Pulmonology, will serve as the primary contact point for the Clinic.
The initial assessment in the clinic will be a consultation along with a diagnostic work-up which includes – an electrocardiogram, chest x-ray and blood tests to determine the recovery from Covid-19.
According to Dr. Sheriff M. Sahadulla, Group Chief Executive Officer of Royal Bahrain Hospital, people typically recover from COVID-19 after 2 to 6 weeks. However, for some, symptoms may recur or linger after initial recovery and can result in complications with lasting health effects.
"The Covid-19 Follow-up Clinic is an initiative to serve the growing needs of patients who are looking for solutions to manage their health and life after recovering from the infection. From heart and lung complications to anxiety and depression, our specialists are available to help patients in their healthcare journey towards getting their lives back on track," says Dr. Sheriff.