RBH Successfully hosts CME on Latest Updates in Oncology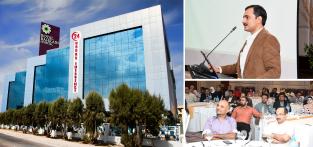 Moving forward with its initiative of providing Continuous Medical Education (CME), Royal Bahrain Hospital (RBH) has successfully hosted a Seminar on Clinical Updates in Oncology last month at the Diplomat Raddison Blu Hotel. The CME was attended by a wide audience from various hospitals and medical centres including general practitioners, gynecologists, pediatricians, radiologists and others.
The CME was conducted by Dr. Boben Thomas, Consultant Medical and Pediatric Oncologist from the KIMS Cancer Care Centre, Trivandrum, India. He highlighted the fact that cancer has now been termed as a condition rather than a disease and added that the condition is curable, provided one detects it early. He also shared his findings and reflected on the ongoing trends in oncology, cancer management methods and techniques.
Citing the importance of CME, Dr. Sheriff Sahadulla, Executive Director and Chief Medical Officer at RBH, said: "We are committed to share our knowledge and expertise with the medical fraternity in Bahrain and beyond. Our CME series are aimed at sharing the valuable expertise gained by our physicians through years of practice and experience of managing various cases."