RBH WINS HEALTHCARE COMPANY OF THE YEAR AWARD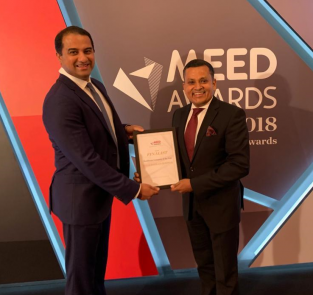 Royal Bahrain Hospital (RBH) is celebrating after being named a winner in the Healthcare Company of the Year Category in the MEED Awards 2018. The program is celebrating excellence across the fastest moving, most diverse and vibrant market on earth, the GCC.
More than 350 business leaders, representing 99 finalist organizations and individuals were in attendance at the ceremony, who were shortlisted from a pool of over 200 nominees by an independent panel of judges. RBH was represented by Dr. Sheriff Sahadulla, Chief Executive Officer and Mr. Jacob Thomas, Executive Director.
The winners for the 18 categories were presented with their awards at a gala dinner at the Ritz Carlton DIFC, Dubai. Dr. Sheriff Sahadulla, Chief Executive Officer at Royal Bahrain Hospital said: "We are delighted to have been given the "Healthcare Company of the Year" award by MEED. We are committed to enhance our services and provide an impeccable healthcare experience through innovation. This award is a reflection of that commitment."
Adding to it,Mr. Jacob Thomas, Executive Director at Royal Bahrain Hospital said: "This award is for our entire team who put in tireless effort in making the patient's experience a memorable one. We are certainly thrilled to have received this recognition."
The Award category chosen was based on organizations Business Achievements, Community engagement and forms of innovation in the healthcare sector among other factors. The criteria for the award are directly aligned with Royal Bahrain Hospital's goal to provide quality healthcare services with a focus on community engagements.
"We congratulate the winners of this year's edition of the awards, and salute their unwavering commitment to business excellence, quality and innovation. Through the MEED Awards programme, we hope to put their achievements in the spotlight not only to celebrate their success, but also become an inspiration to others," said Louise Baird, Head of Events, MEED.