Season Partnership Between Royal Bahrain Hospital & Bahrain Basketball Association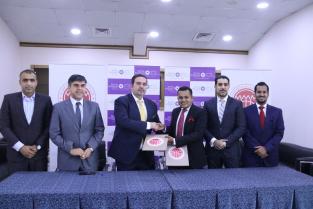 Royal Bahrain Hospital (RBH) partners with the Bahrain Basketball Association to provide medical services for all of its tournaments in the coming seasons.
An agreement to this effect was signed by Mr. Jacob Thomas, Executive Director – Operations and Projects, KIMS GCC and Mr. Nasser A. Reda Al Qaseer, Vice President, Bahrain Basketball Association in the presence of Abdulelah Abdulghaffar Mohammed, General Secretary and S. Anwar Mahdi Sharaf, Competition Committee Head of Bahrain Basketball Association and Mr. Rahma Jaberi, General Manager, KIMS Group.
As per the agreement, RBH will be providing various medical services, which include the provision of an Ambulance and Medical staff at all official tournaments, provision of medical equipment and free consultations for players of the national teams.
Mr. Jacob Thomas said, "We are delighted to work in collaboration with the Bahrain Basketball Association. We will ensure that this agreement will be translated into action which serves the goals and values of RBH towards its corporate social responsibility towards the community and which will benefit the sports initiatives of the Kingdom."
Mr. Al Qaseer highlighted that this agreement is the first of its kind and that it will have a positive impact on the success of the league this year. The Association aims to build partnerships throughout the different sectors of Bahrain, which focus on improving basketball in the Kingdom, and to provide the ideal environment to move forward and improve all of its aspects.
On behalf of the board of directors of the Bahrain Basketball Association, Mr. Al Qaseer also showed his appreciation to RBH on its cooperation during this season, which demonstrates the hospital's strategies and support of the youth and sports movement in the Kingdom.
Mr. Jacob Thomas added, "We would also like to thank HRH Shaikh Isa bin Ali bin Khalifa Al Khalifa, President of the Bahrain Basketball Association for giving us this opportunity to serve the Bahraini youth in the sports arena, specifically basketball which is a very popular sport in the Kingdom. We hope to play an integral role in the success of the programs of the Association this year, especially that youth are a vital segment of the Bahraini society in which all sectors have a responsibility towards."