Digital Detox Camp to Encourage Your Children to Play Outdoor Sports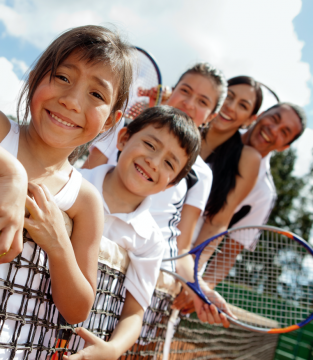 In a digital age where smartphones, tablets and video games are controlling our lifestyle, it is becoming a daunting task for parents for managing the growth process of their children including their mental and physical development.
To address this issue, Royal Bahrain Hospital has come together with Bahrain Tennis Club and Athletic Kings and has organised a Digital Detox Camp for Children and Parents with a view of encouraging children to play more outdoor sports and improve bonding between parents and children.
The camp is being held at the Bahrain Tennis Club on April 12, 2019 3 p.m. onwards. It is a free camp and parents and children have the opportunity to bond over multi skills workshops, yoga, tennis and much more. Children from ages 2 to 14 can participate along with their parents.
Mr. Khamis Mouqla, President, Bahrain Tennis Club, said: "We are extremely happy to come together with Royal Bahrain Hospital and Athletic Kings in putting up this activity. Today's children need to be encouraged to get away from digital devices and spend more time outdoors. This will promote their health and growth."
Talking about digitization, Dr. Sheriff Sahadulla, Chief Executive Officer at Royal Bahrain Hospital said, "Children use technology these days far more than when I was a kid. Looking at a screen has become a regular activity. This needs to be balanced with other activities such as taking part in sports. Sports are important for children as it builds healthy bones and muscles, increases fitness, improves sleep, helps them socialize and improves their self-confidence among other things. We are extremely thankful to Athletic Kings and Bahrain Tennis Club in coming together and organizing this event.
Mr. Michiel Borst, Managing Director of Athletic Kings said, "Outdoor activities promote a healthy lifestyle! Parents are a great example if they are active. Studies have shown that children who are more active are healthier and have a lower chance of obesity and diabetes. They feel less stress, sleep better and are more confident if they are good in a sport."
Play is an essential activity of early childhood as it contributes to the social and emotional development of children. Parents directly affect the behaviour of their young children when they engage the children in play.
To register for the Detox Camp this Friday, call Mr. Paritosh (33300497), Mr. Michiel (38325914) or Mr. Hamdi (36333720).