EXPERT ENDOCRINOLOGIST JOINS RBH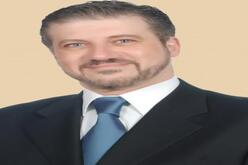 Royal Bahrain Hospital (RBH) is pleased to announce the appointment of Dr. Wiam Hussein, Senior Consultant-Endocrinology & Diabetes, as the latest addition to its Department of Endocrinology. Dr. Wiam will be seeing patients every Saturday and Wednesday from 8:00 am to 12:00 pm and from 1:00 pm to 5:00 pm on a weekly basis.

Dr. Wiam Hussein is certified by the American Board in Endocrinology, Diabetes and Metabolism, and by the Jordanian Board of Endocrinology and Diabetes. He is also a fellow of the American College of Endocrinology, and a fellow of the American College of Physicians.
Dr. Wiam is joining RBH with more than 20 years of rich experience in Endocrinology, Diabetes and Metabolism, while receiving intensive training at highly reputed medical centers in Ohio-USA. Dr. Wiam had attained the "Best Resident Award" in addition to many other awards for his studies and research in the field of endocrinology & diabetes.

Dr. Wiam's areas of expertise include the diagnosis, treatment and management of hormonal and metabolic disorders such as Diabetes, Hypertension, thyroid disorders, in addition to Cholesterol disorders. Moreover, Dr. Wiam has a special interest in the evaluation and treatment of Kidney Disorders, Pituitary & Adrenal Disorders, Polycystic Ovarian Syndrome, Vitamin D Deficiency, as well as Osteoporosis, among many others.

"We are very glad to welcome Dr. Wiam Hussain to RBH's medical family. In addition to his distinction and excellence in his academic studies, Dr. Wiam Hussein has extensive experience in professionally handling and efficiently treating a multitude of Endocrine disorders," said Dr. Sheriff Sahadulla, Executive Director of RBH. "At RBH our commitment and vision is to provide our community members with the best medical team and focused medical services," he added.

For more information or to book an appointment, you may contact us on 17246800.