Expert Ophthalmology Consultant to Visit RBH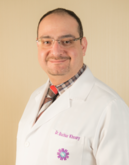 Royal Bahrain Hospital is pleased to announce that Dr. Bachar Khoury (European Board of Ophthalmology) will revisit RBH once again from June 21st - 30th 2018.
During his visit, Dr. Bachar who has more than 18 years of experience will be available for consultations as well as diagnosis and treatment of the following conditions: General eye diseases, vision correction, blepharoplasty, botox and fillers, pediatric ophthalmology, glaucoma, diabetic retinopathy screening.
Dr. Bachar earned his Bachelor of Medicine in 1999 at Damascus University, Syria, and went on to earn a Speciality of Ophthalmology in 2004. He then pursued higher surgical training in oculoplastic surgery util 2006. Dr. Bachar got the European Board of Ophthalmology, and subspecialty of pediatric ophthalmology from Paris, France. In addition, he received diplomas in ocular inflammations and infections, microsurgery, pediatric ophthalmology and additional plastic surgery training in France.
Furthermore, Dr. Bachar started working in the Kingdom of Bahrain in 2009 and successfully opened the Ophthalmology department at Royal Bahrain Hospital in 2012.
To book your appointment with Dr. Bachar, call 17246800 or book online on www.royalbahrainhospital.com.
You can now also download the Royal Bahrain Hospital Mobile App to book your appointments and more on iOS and Android devices.