RBH Launches Real-time Mobile App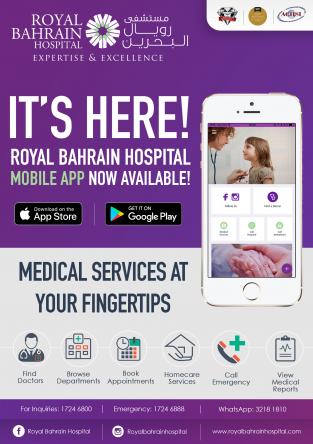 Royal Bahrain Hospital continues to make advances in the digital healthcare space in Bahrain by launching a Mobile App on both iOS and Android platforms, making access to healthcare even easier than before. The release of the App comes as a follow up to the patient portal that was released by RBH over a year ago.
The App can be found through the App Store on IOS platforms and Google Play on Android platforms by typing Royal Bahrain Hospital in the search window. Keeping in mind the growing needs of customers and the increasing use of mobility solutions, the App has been created to provide all the information needed for patients to plan their visit to the hospital and access their test results.
Some of the important features of the App include finding a doctor, browsing departments, booking appointments and viewing medical records through the Patient Portal link. All the features and services of the App can be accessed by logging in with your Medical Record Number. New patients to Royal Bahrain Hospital are also able to request an appointment though the App. Once an appointment is made, patients will be presented with a token number that can be presented to the main reception when they come in for their appointment.
Commenting during the launch, Dr. Sheriff Sahadulla, Executive Director and Chief Medical Officer at KIMS Healthcare Group says: "We have launched our App with one goal in mind – enhancing ease and accessibility to our customers. We believe the App will be instrumental in changing the service landscape of healthcare delivery in Bahrain."
Talking about the operational aspects of the App, Mr. Jacob Thomas, Group Director – Projects & Operations (GCC), KIMS Healthcare Group says: "Besides many other aspects, we expect the App to play a crucial role in allowing patients to book their appointments real-time at their convenience thereby reducing dependency on the call center and human interfacing. In addition to reducing the waiting times considerably, patients will have the freedom to view and choose their preferred time slots."
The Royal Bahrain Hospital Mobile App can now be downloaded through the App Store on iPhone or Google Play on an Android device.