Consultant Gastroenterologist Dr. Mazin Hazim Kamil at Royal Bahrain Hospital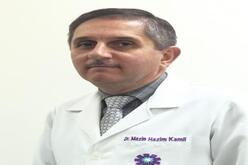 When it comes to gastroenterology, there is certainly no compromise. In fact, your quality of health today depends a lot on changing food patterns, dietary habits and lifestyle, all of which put gastroenterology into the forefront. Obviously in an era when we all are looking for the best at all the times, the Department of Gastroenterology at the Royal Bahrain Hospital houses some of the best specialists in the field.
Dr Mazin Hazim Kamil, Consultant Gastroenterologist, is one such valued member of its professional medical team.
Dr Mazin earned his degree from the College of Medicine at Baghdad University (MBChB) in 1987 and obtained his higher diploma in internal medicine from Mustansuriah University (DM) in 1995. He went on to obtain board fellowship in internal medicine (FICMS-Med.) in 1995 and Board Fellowship in Gastroenterology (FICMS –GI) in 2000. He specialises in the treatment of the digestive system and liver diseases and has been a fellow of the American College of Gastroenterology (FACG) since 2008.
The gastroenterology department at RBH offers diagnostic services and treatment for a range of stomach, colon, liver, Pancreas and intestinal issues including the early detection and treatment of cancer and hepatitis using the latest endoscopic and minimally invasive procedures.
From colonoscopy and gastroscopy to state-of-the-art procedures such as capsule endoscopy and endoscopic retrograde cholangiopancreatography, the team ensures that all procedures are performed efficiently and safely.