Dialysis Centre launched at Royal Bahrain Hospital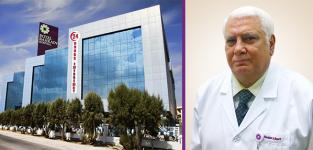 Keeping up to its commitment of providing its patients with the best of healthcare facilities and services, the Royal Bahrain Hospital (RBH) has launched a Dialysis Centre, which has commenced operations from July 2017.
Managed by the Department of Nephrology, the Dialysis Centre is a 2-bedded facility providing Hemodialysis services. The Centre is headed by Dr. Nader Albert Hanna, Consultant Nephrologist at RBH. Dr. Nader holds a Doctorate Degree in Internal Medicine from Ain Shams University – Cairo, and is a member of the Egyptian Society of Nephrology and Royal College of Surgeons in Ireland.
The Dialysis Centre is the latest addition to the Department of Nephrology at RBH and has been commissioned due to the increasing number of patients suffering from kidney related diseases in the Kingdom.
The Department specialises in the prevention and treatment of acute and chronic kidney disorders, mainly in hypertensive and diabetic patients, besides performing kidney biopsies and dialysis.
"Diabetes and high blood pressure are the most common reasons for end-stage renal diseases (ESRD). Given the high incidence of both in Bahrain and the GCC region, it is pertinent for the inhabitants of Bahrain to get themselves checked for kidney-related issues. Our Dialysis Centre will ensure high quality services in a caring environment," said Mr. Jacob Thomas, Group Director – Projects & Operations (GCC), KIMS Healthcare Group.
For more information or to schedule an appointment with Dr. Nader Albert Hanna, please call Royal Bahrain Hospital on +97317246800.