EXPERT PAEDIATRIC DENTIST JOINS RBH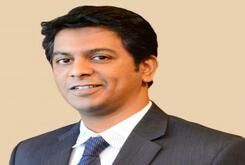 Royal Bahrain Hospital (RBH) has recently assigned Dr. Santhosh B.P., Consultant Pedodontics, as the newest addition to RBH's highly skilled dentistry team.
With rich and comprehensive experience in modern Pediatric Dental care, Dr. Santhosh B.P specializes in diagnosing and treating patients with various preventative, cosmetic, interceptive and restorative methods including root canal treatment, crowns and bridges, teeth whitening, etc.
His focus of expertise includes treating various dental issues related to pediatric patients from birth through adolescence such as cavities, pediatric emergencies, preventive care & interceptive orthodontic treatment, restoration of mutilated teeth, extractions, treatment of young permanent teeth in addition to traumatic injuries that involve the teeth. Dr. Santhosh also has a keen interest in behavior management of young children, managing children with special health needs, and providing comprehensive dental treatment under general anaesthesia.
"Stemming from my passion for dentistry, and especially of that in the pediatric domain, I dearly advise parents to bring in their children for their teeth to be checked regularly, so they can develop good oral care habits at an early age, and thereby avoid cavities or any serious dental complications," said Dr. Santhosh
Dr. Sheriff Sahadulla, Executive Director at RBH, welcomed Dr. Santhosh to RBH's family, and wished him all the best in serving the hospital's patrons and the Bahraini community with his valuable expertise.
For more information or to book an appointment, you may contact the Royal Bahrain Hospital on 17246800.