RBH offers effective Breast Cancer Screenings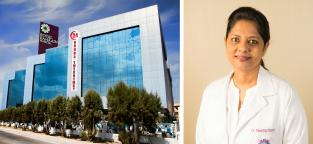 In an effort to raise breast cancer awareness in the local communities, Royal Bahrain Hospital has launched special Breast Screening packages for undertaking preventive check-up throughout the month of October 2017.
In addition to the tests, patients can also avail tips from RBH's Medical Team on early detection, screening, and prevention against Breast Cancer.
The two distinct screening packages include a Consultation and Breast Ultrasound in one package, and Consultation and Breast MRI Screening in the other.
Spotting existing trends in breast cancer, Dr. Neetha Ravi, Specialist - General Surgery at RBH says, "According to the American Cancer Society, one out of eight women develop breast cancer during their lifetime. Preventive screenings help in early detection of cancer which helps in avoiding extreme treatments, ultimately saving lives. Studies indicate that the survival rates for early detection cases have now reached up to 80 percent!"
"At RBH, we always strive to provide the best of the clinical and diagnostic services to our patients. The Breast Cancer packages are designed to motivate women to undertake necessary preventive steps and eventually protect their lives. Overall, our initiative falls in line with the global recognition of October as the Breast Cancer awareness month.'' said Dr. Sheriff Sahadulla, Executive Director at Royal Bahrain Hospital.
To avail the packages, call Royal Bahrain Hospital at 1724 6800 or book online.