RBH WELCOMES EXPERT ORTHOPEDIC SURGEON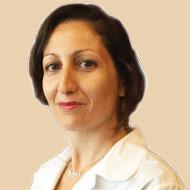 Royal Bahrain Hospital (RBH), is glad to announce the joining of Dr. Anastasia Athanasiou, Consultant Orthopedic, to be part of RBH medical team at the department of Orthopedics, on Saturdays from 4pm – 8pm and Wednesdays from 8:30am – 12:30pm.
Dr. Anastasia Athanasiou is an expert orthopedic surgeon who studied medicine at the University of Thrace in Greece. She joined many training courses including surgery and advanced training including Hyperbaric Medicine and Problem Wound Management in the USA, Medical Assessment of Fitness for Diving in the USA, Aviation Medicine in London, in addition to many courses at BLS-Dubai.
Dr. Anastasia has many years of comprehensive experience in diagnosing and treating a wide range of Orthopedic disorders, mainly emphasizing on Sports Medicine due to working at many top-end health care institutions in Greece and Dubai.
Furthermore, Dr. Anastasia is a certified Orthopedic Surgeon Specialist by the national board exams in Athens- Greece, and an active member at the Aerospace Medical Association, Undersea and Hyperbaric Medical Society, and the American Academy Orthopedic Surgeons. She is also a member of EESKA (European Society of Sports Traumatology, Knee Surgery and Arthroscopy). Moreover, Dr. Anastasia has published many academic papers concerning Orthopedics and sports injuries, and steered various international meetings. In addition, Dr. Anastasia is a keen sportswoman herself as she takes part in various events in the Kingdom of Bahrain.
"I would like to welcome the highly qualified Dr. Anastasia Athanasiou in Royal Bahrain Hospital, and wish her all the best in serving our Hospital and our community. We are committed to continue providing excellent medical care and progressive services to our community members." Dr. Sheriff Sahadulla, Executive Director at RBH.
For inquiries and appointments please visit our Doctors page or call us on 17246800